...
...
Aldec solves another DO-254 challenge with Requirements Reviewer in Spec-TRACER™
Date:

Jan 28, 2014
Type:

Release
Henderson, NV – January 28, 2014 – Aldec, Inc., today announces the latest release of Spec-TRACER™ 2013.12, requirements lifecycle management solution for FPGAs and ASICs. Safety-critical designs must undergo strict requirements-based design and verification processes. Spec-TRACER streamlines the requirements engineering process from capture to traceability, analysis to reporting, and design to test results management, enabling organizations to maintain control over requirements throughout the development cycle. The latest release of Spec-TRACER introduces Requirements Reviewer to simplify the review process of requirements against in-house rules and standards.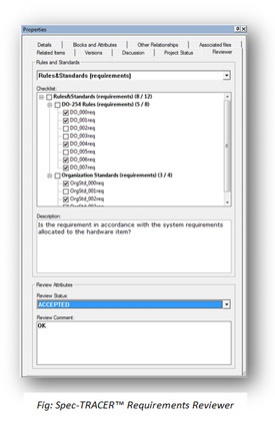 "When multiple stakeholders must review hundreds of requirements against a long checklist of standards, the review process can become convoluted and difficult to track," said Louie De Luna, DO-254 Program Manager, "Procedures to simplify the review process and mechanisms to track progress are essential to the project's success in achieving compliance."
Spec-TRACER improves on traditional requirements review processes, which include using Word and Excel to manually analyze whether or not requirements adhere to standards. The solution delivers review and analysis results to include identification of the item reviewed, personnel performing the review, corrective actions, problems/errors and the actual results, providing the compliance evidence required by safety-critical regulation such as DO-254 for avionics.
Additional New Major Features from Spec-TRACER™ 2013.12
Verification Tracker provides a simple and efficient process to track traceability between requirements, test plans and verification coverage results including Code Coverage, Functional Coverage and Property Specification Language (PSL) Coverage.
Full Traceability View displays a full traceability matrix including system requirements, FPGA requirements, conceptual design, HDL design, test cases, test results, Code Coverage results, log files and waveforms.
About Spec-TRACER™
Spec-TRACER is a unified requirements lifecycle management application designed specifically for FPGA and ASIC designs. Spec-TRACER facilitates requirements capture, management, impact analysis, traceability, reporting, verification results management and seamlessly integrates with Windows-based HDL design and simulation tools.
For additional information about Spec-TRACER 2013.12 including resources, free evaluation downloads and What's New Presentation, visit www.aldec.com/Products/Spec-TRACER.
About Aldec
Aldec Inc., headquartered in Henderson, Nevada, is an industry leader in Electronic Design Verification and offers a patented technology suite including: RTL Design, RTL Simulators, Hardware-Assisted Verification, SoC and ASIC Prototyping, Design Rule Checking, IP Cores, Requirements Lifecycle Management, DO-254 Functional Verification and Military/Aerospace solutions. www.aldec.com
---
Aldec is a registered trademark of Aldec, Inc. All other trademarks or registered trademarks are the property of their respective owners.
Media Contact:
Aldec, Inc.
Christina Toole, Corporate Marketing Manager
+ (702) 990-4400
christinat@aldec.com