Aldec Customer Testimonials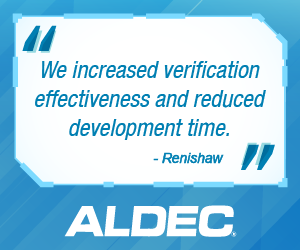 "Using ALINT means that code can be checked by a design engineer much earlier in the design cycle, thus increasing effectiveness and reducing development time by reducing code errors.
The final review can now rely on the ALINT reports - simplifying the process, thus reducing the time taken for approval."
- RENISHAW
About Renishaw
Renishaw is a global company with core skills in measurement, motion control, spectroscopy and precision machining. They develop innovative products that significantly advance their customers' operational performance - from improving manufacturing efficiencies and raising product quality, to maximising research capabilities and improving the efficacy of medical procedures.
Renishaw plc
New Mills, Wotton-under-Edge
Gloucestershire, GL12 8JR UK
www.renishaw.com
Aldec Tools:

"ALINT™ is a fully automated verification environment which is intuitive and can be used with minimal training. Other products, including no-cost options, were considered however as a supported product, ALINT provides better continuity and is straightforward for engineers to engage with."
"Aldec has provided continuous support on all aspects of the tool from general information to in-depth technical help. Of particular note, has been their willingness to investigate potential bugs and assist in configuring it to provide the maximum benefit to Renishaw."

"Overall, we consider it to have been a worthwhile investment and are sure that its value to the company will increase as we continue to produce ever more complicated high speed digital electronics."
---
Aldec, Inc.
Corporate Headquarters
2260 Corporate Circle
Henderson, NV 89074 USA
Tel: +1 702 990 4400
Fax: +1 702 990 4414
https://www.aldec.com
©2022 Aldec, Inc.

---
Printed version of site: www.aldec.com/en/company/testimonials/testimonial_renishaw