How can Spec-TRACER help in the review process of requirements?
Answer
Spec-TRACER has a feature called Workflow that offers pre-defined and user-defined review workflows. For example: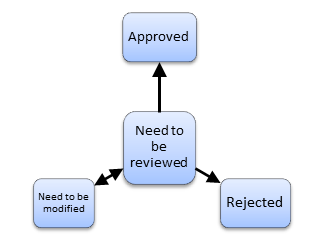 Upon creation of a requirement, the default value is Need to be reviewed, and from this stage, the requirement can be assigned a value Approved, Rejected, or Need to be modified. When the requirement has been modified, it goes back to the initial stage Need to be reviewed.
---
Aldec, Inc.
Corporate Headquarters
2260 Corporate Circle
Henderson, NV 89074 USA
Tel: +1 702 990 4400
Fax: +1 702 990 4414
https://www.aldec.com
©2021 Aldec, Inc.

---
Printed version of site: www.aldec.com/en/support/resources/documentation/faq/1684