...
...
SoC and ASIC Prototyping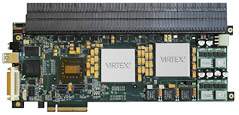 Today's growing complexity in ASIC designs and decreasing time-to-market time, have made SoC and ASIC Prototyping an essential process in product development. SoC and ASIC Prototyping eases the time constraint of system verification which lessens the probability of defects at tape-out, allowing manufacturers to release products much sooner to customers. Utilizing FPGAs in ASIC development allows for at-speed design implementation, permitting a more realistic functional coverage and integration with embedded software.
The HES-7 platform allows prototyping of ASIC designs up to 24 million ASIC gates utilizing Xilinx™ Virtex®7 2000T FPGA and allows flexibility and scalability with non-proprietary backplane/daughter board connectors for designs up to 96 million gates. HES-7 also provides support for ARM® dual-core Cortex™-A9 MPCore™ application development, leveraging Xilinx Zynq™ All Programmable SoC, and includes peripherals supporting media interfaces, memories and additional connectors to expand the development of a wide array of SoC applications. Designers can now leverage the serial processing capabilities of the Cortex-A9 processor for applications that require intensive computations and operating systems with the parallel processing capabilities of HES-7 ASIC prototyping platform to create applications across a diverse range of markets.
To subscribe to our monthly SoC and ASIC Prototyping Bulletin simply register or update your account. Be sure to select ASIC Prototyping to receive related news.