...
...
Aldec Cloud™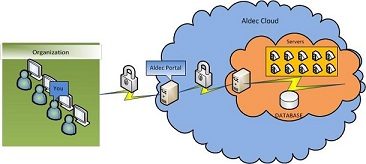 In response to growing IT infrastructure demand, recently more companies have begun to consider using services on the cloud. The trend has started to reach the EDA industry, where it promises to help solve the computation resource bottleneck that many organizations, both large and small, are confronting.
Scalable cloud providers offer access to a virtually unlimited pool of computer resources, enabling users to increase computing resources based on demand without the cost of ownership and maintenance. The ability to leverage scalable computer resources, together with access to an equal number of mixed language VHDL and Verilog simulation licenses, provides an ideal solution to help hardware designs engineers to maintain their schedules during critical peak usage requirements associated with extensive regression testing.
Users who wish to run a virtually unlimited number of parallel mixed HDL simulation tasks, can leverage Aldec Cloud™ for simulation peak usage, with a significant potential cost savings on hardware infrastructure and related costs during high usage requirements.
Benefits of Aldec Cloud
Scalability and flexibility – Run 100 servers for an hour or 1 server for 100 hours for the same cost. Each user determines how many servers to allocate for a specific job – the payment structure is based node hours
Pay per use – Purchase the number of server hours (node hours) that you can use at your own pace. Only pay for what you have used
Amazon – The primary storage location is using Amazon's cloud infrastructure
Infrastructure cost saving – Save on servers and associated maintenance cost: power, cooling, space, maintenance, etc.
Complete cloud security – All data is kept encrypted at all times. No one, including Aldec employees can access user data at any time. Data on Aldec Cloud is more secured than on a local network
Ideal Aldec Cloud Usage
Users with the following simulation profile will benefit the most from running on the cloud:
Batch mode simulations and regression tests that run for the total of one hour or longer.
Parallel simulations that can be spread across multiple servers. (Once those simulations are completed, the results can be downloaded for off-line processing)
The following tasks will run more efficiently on a local network:
Short single simulation runs (under 30 minutes)
Interactive simulations with debugging