...
...
Requirements Lifecycle Management
Spec-TRACER™ is a unified requirements lifecycle management application designed specifically for FPGA and ASIC designs. Spec-TRACER facilitates requirements capture, management, analysis, traceability and reporting that seamlessly integrates with windows-based HDL design and simulation tools.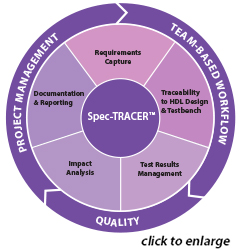 Traceability links between requirements and elements of the HDL design, testbench, log files and waveforms are established easily and upstream/downstream traceability reports are generated automatically.
Combining a team-based methodology with appropriate requirements versions control, Spec-TRACER helps companies streamline the requirements engineering process, optimize the development cycle, improve collaboration, and reduce risk and costs.
Top Features
Requirements Import (Word, Excel, DOORS)
Traceability to HDL Design and Testbench
Direct Integration to DOORS
Team-Based Methodology
Change Impact Analysis
Test Results Management
Requirements Coverage Analysis
Predefined and User-Defined Reports
Version and Baseline Control at Requirements Level
Supports Windows-Based Simulators (Active-HDL™, Riviera-PRO™, Questa®, ModelSim®, iSim®)
Supports DO-254 Requirements Traceability